By Liam Spencer, Research Assistant and ARC NENC Mental Health Research Fellow, Fuse & NIHR School for Public Health Research, Newcastle University
Young people who identify as lesbian, gay, bisexual, transgender, or queer/questioning (LGBTQ+)
experience significant mental health inequalities
in comparison with their peers. School environment is a major risk factor and is consistently associated with negative mental health for LGBTQ+ young people, as shown in research
here
,
here
and
here
. The UN Convention for the Rights of Child Committee has also specifically emphasised the need to take
effective action to protect LGBTQ+ young people
from all forms of violence, discrimination or bullying, and to improve mental health.
Our research
Our
Creating LGBTQ+ Affirming School Environments (CLASS)
research project aimed to investigate the impact of school-based interventions (schemes or initiatives) on the mental health of LGBTQ+ young people. In the first stage of our study, we reviewed published evidence, and identified positive interventions that supported LGBTQ+ mental health in school, however the focus tended to be on the outcomes rather than detailing how they were done.
We also interviewed 10 young people aged between 13 and 18 years, nine practitioners (e.g. people working in organisations who had delivered LGBTQ+ inclusivity interventions in UK schools), and three members of school staff, and analysed the data to identify interventions that improved mental health. We used this information to develop a theory model that aimed to explain how, why, for who, and in what context school-based interventions can prevent or reduce mental health problems in LGBTQ+ young people, in collaboration with these key stakeholders.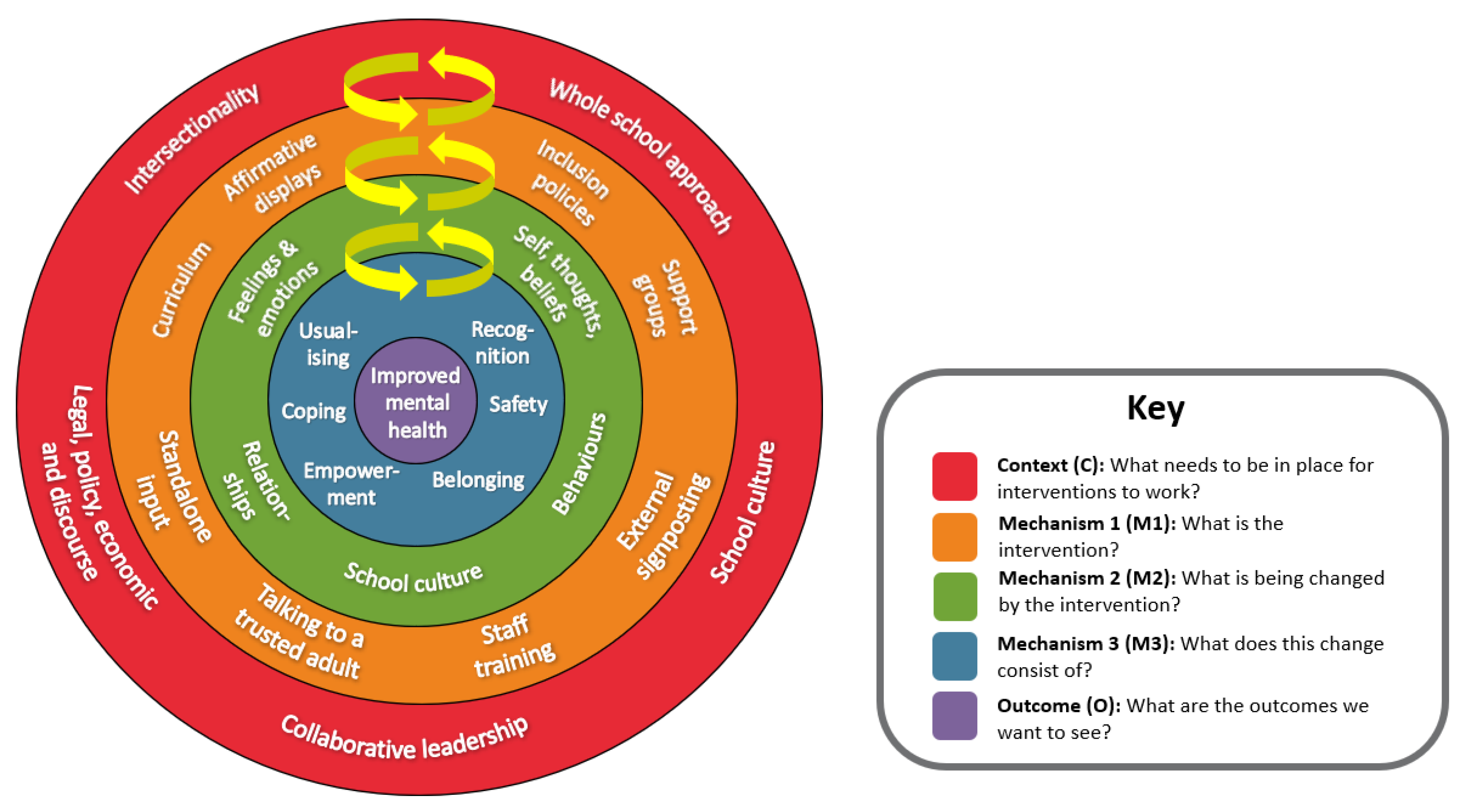 McDermott, E. et al. Understanding How School-Based Interventions Can Tackle LGBTQ+ Youth Mental Health Inequality:
A Realist Approach. Int. J. Environ. Res. Public Health 2023, 20, 4274. https://doi.org/10.3390/ijerph20054274
Our model (diagram above) has three levels at which interventions may work, on psychological, behavioural, emotional, cultural, and social levels. It explains how school-based interventions that directly tackle dominant cisgender and heterosexual norms can improve LGBTQ+ pupils' mental health.
We found that contextual factors such as a 'whole-school approach' and 'collaborative leadership' were crucial to the delivery of successful interventions. Our theory suggests three ways (causal pathways) that might improve mental health:

Interventions that promote LGBTQ+ visibility and 'usualise' the presence of LGBTQ+ identities, school belonging, and recognition.
Interventions for talking and support that develop safety and coping.
Interventions that address institutional school culture (staff training and inclusion polices) that foster school belonging, empowerment, recognition, and safety.
Our findings suggest that providing a school environment that affirms and 'usualises' LGBTQ+ identities, and that promotes school safety and belonging can improve mental health outcomes for LGBTQ+ pupils. The causal pathways we present are a starting point as theories, however more research to develop our understanding of how school interventions work to improve school climate and the mental health of LGBTQ+ young people is needed. We now need the UK, and other countries, to take seriously LGBTQ+ young people's rights and ensure they are afforded equal respect and protection as their peers in schools. We may then find that the mental health of LGBTQ+ young people improves.
Read the full research paper here: Understanding How School-Based Interventions Can Tackle LGBTQ+ Youth Mental Health Inequality: A Realist Approach, 28/02/23